Bulk SMS Software for Windows mobile phones
Price : $45

In stock Order now !





Category

:

Bulk SMS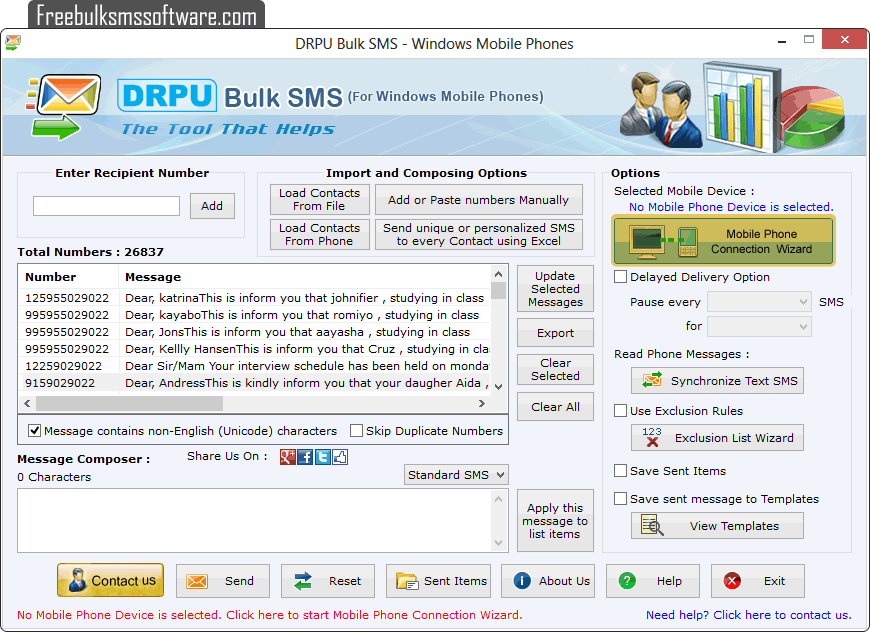 Bulk SMS Software for windows mobile phone is designed to compose and send sms from Desktop or Laptop System to group of mobile phone users via using Windows based Pocket PC or PDA Devices in one click. Windows mobile sms application is useful to send bulk sms from windows based Pocket PC devices without internet connection required.
Software features
Bulk SMS application for windows mobile phone provides option to send SMS to individuals or list of phone numbers.
Based on advanced technology sms software provides option to Load Contacts from File, phone memory or send personalized SMS to every Contact using Excel.
Windows mobile sms software send messages in Unicode character supported languages including English and other popular languages.
Windows phone sms software read and import existing sms of the mobile phone to send sms.
SMS smartphone utility save sent messages in txt, html, xls file format and can be viewed later by the user.
Windows sms messenger program provides option to skip duplicate number entries.
Windows sms software provides advance option to send Notification or Standard SMS.
Windows mobile messaging software is compatible with all Windows based Mobile Phone handsets supported by Microsoft ActiveSync and Windows Mobile Device Center while using software for sending bulk sms for windows mobile phone.
Windows text messaging program sends SMS using Delayed Delivery Option to control the load of sending sms from your Phone.
Provides exclusion list Wizard to maintain the Lists of contacts or Groups, which you may need to exclude time to time when sending messages.
If you are using Windows mobile phone, simple to use windows mobile text messaging program (perfect Smartphone sms tool) sends text message from windows mobile to multiple mobile phone numbers with Desktop or Laptop as interface. No need for any Microsoft sms server download required or use windows server sms tool. Just create your own windows sms gateway with option to compose and send bulk text messages in one go.