Bulk SMS Software - Multi USB Modem
Price : $49

In stock Order now !





Category

:

Bulk SMS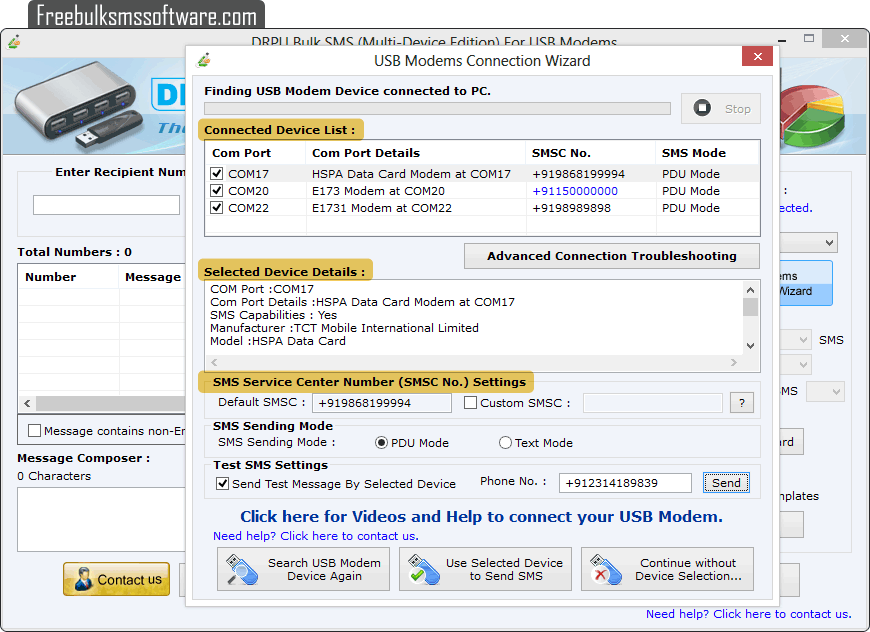 Bulk SMS software for USB modem is comprehensive mobile marketing solution that helps you to increase your sales via broadcasting bulk messages with the help of USB phone modem connected to PC. Bulk text messaging software allows you to connect multiple numbers of USB gsm modems with computer or laptop device by sending sms for free.
Software features
SMS gateways software helps to send text from pc by the help of mobile modems.
No internet connection is required to send sms from modem using smsgateway software.
Text sms bulk sms sender software provides facility to send notifications or standard SMS.
Gateway sms software allows user to send free text message using delay delivery option.
Gateways sms sending program provides inbuilt list wizard option helps to maintain the list of contacts or groups which may require while sending free sms from PC to mobile phones.
GSM modem sms gateway software provides fast delivery of text messages to all networks worldwide.
Sent bulksms text messages can be saved and viewed by the users.
Sms modem gateway software easily works on entire types of USB to send free sms text messages in bulk numbers.
Start business marketing through bulk SMS software!
Streamline your business marketing and enhance customers interaction.
Communicate with targeted audience via broadcasting bulkSMS.
Provides business products updates and new offers details to the customers.
Drive targeted customers to your business and increase business revenue and sales by sending free sms.